"With BuzzyBooth management software we were able to get our 5-star reviews featured and ranked on Google"

Megan – Buttram Braces
The Challenge
Failure To Getting Reviews Was Costing Them Big Time
When Dr. J. Randal Buttram started his Orthodontic clinic Buttrams Braces over 20 years ago his goal was to create a fun and easy environment for his patients where they can be treated better than any other business.
The clinic was trying to keep up with all the new tech and appliances to stay ahead of the curve.
From the top of the line Invisalign scanners to the newest braces.
They have mainly been serving children and the odds seemed to work with them.
According to CDC, 84.9% of children aged 2-17 years have visited their dental clinic.
However, with the average industry growth of 3.2% for Dentists in Florida, the competition started to heat up.
Based on a study by Dentagraphics, there are 5,778 general practices in Florida and that contributed to 3,705 residents per one general dental practice which is higher than anywhere else in the US.

One major problem they were facing at the clinic was getting patient reviews.
Asking dental patients for reviews has always been a challenge for most clinics.
But the result coming from client feedback can have a huge impact on the success of any practice.
72 percent of patients use reviews when searching for a new or evaluating a new clinic.
And although Google ranks top on the list, patients still use other sources like Healthgrades, Yelp, and in some cases Facebook pages to evaluate different practices.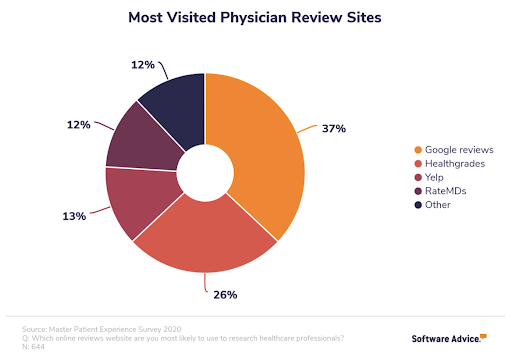 The major hurdle that Buttrams Braces was facing when it comes to reviews is following up on a request.
Most people are busy and once they leave the clinic it's very difficult to follow up on the review request.
Unless they are returning for a second visit, it is very challenging.
The primary goal of any dentist is to provide quality service for patients and to acquire new clients through the goodwill created in the market.
But between maintaining crisp knowledge about the practice and at the same time gaining positive reviews for his clinic, Dr. Buttram feared that his practice was at risk!
He needed to find a solution.
The Solution
A Fully Automated Marketing Machine To Generate Positive Reviews
One of Dr. Buttram's assistants Megan came across Buzzybooth Kiosk and presented the idea to her boss.
A simple and effective way to get patient reviews while creating a fun and engaging experience.
Buzzybooth solution was made of two components:
1. The Photo Booth Kiosk
This is where the fun begins.
Buzzybooth Photo kiosk is designed with an interactive face recognition filter.
Every time a patient stands in front of the booth, they have the option to choose from any of the filters that come with the kiosk.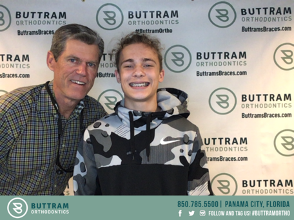 Once they snap the photo or the video, they are asked to enter their information including phone number and email address.
The second component does the rest.
2. The BuzzyBooth Marketing Software
The software adds their contact info to the customer base and sends them the photo or the video.
All of these images are branded to the clinic and once they start sharing it, the name spreads all over social media.
Then they are prompted with a message asking them to leave a review.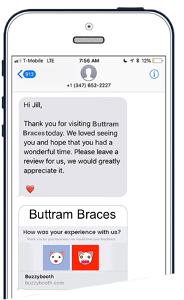 Customers were delighted and started taking photos and leaving positive reviews.
The major difference between BuzzyBooth Solution and any marketing system out there is that it allowed Buttram Braces to capture valuable moments for their patients in a fun and engaging way, collected their contact info in one place, and automatically sends out a review request.
The solution also allows them to monitor negative reviews if any from being posted.
Once a five or four-star rating is sent, the system alerts to release those ratings.
But in case there's a negative review, then the same notification allows the clinic to investigate the issue and try to resolve the situation with the patient.
In a matter of weeks, Buttram Braces was buzzing everywhere on social media.
Not just that!
The page started to show up on Google highlighting all the positive reviews they gained along the way.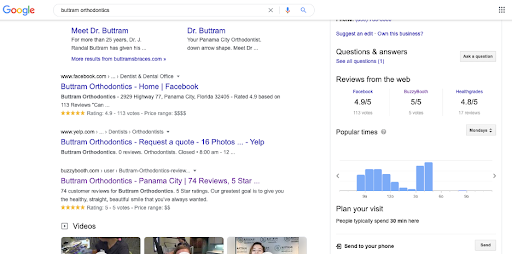 It was official and positive reviews started to have a huge impact on the business.
After a few months, the results came in..
The Result
75 Five-Star Reviews & Close To 250k Impressions
After a couple of months of having BuzzyBooth Kiosk at the clinic, Buttram Braces managed to gain 75 five-star reviews.
These were a combination of Google, Facebook, and Yelp reviews.
The photos were shared close to 700 times on social media and the clinic got over 249K impressions.

Thanks to the BuzzyBooth solution, reviews were super simple to get.
The one-click message allowed Buttram clinic to continually get 5-star reviews which had a huge effect on their success as a clinic.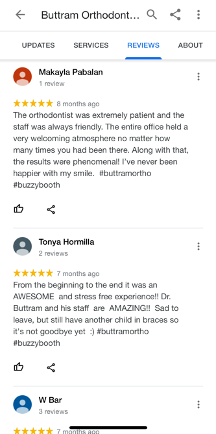 Patients were raving about how they absolutely loved the clinic and the treatment.
The system proved to grow their business with solid positive reviews that also resulted in lots of referrals from their patients.
BuzzyBooth helps Dental Clinics multiply their patient's positive feedback through the automated review system.
If you are starting out your dental practice or you're established in the industry but struggling to expand your growth with positive reviews, then BuzzyBooth could be the right fit for you.
Apply Today To Qualify for a Free Consultation
"So far, 2478 photos and videos were taken, 249k+ impressions from shared media. After BuzzyBooth reputation management software is implemented, 75 reviews have been written within 8 weeks."

 Megan – Buttram Clinic