"BuzzyBooth saved us a lot of costs from renting photo booths. With the online sharing feature, our customers were promoting our brand. Ever since using the Booth we've collected over 72 thousand emails,"

Violet Lee – Senior Marketing Director, Clarins.
The Challenge
Declining Growth in The Beauty Industry
Clarins Beauty Chain has been operational in the US since 1980, with over 86 branches nationwide and a global presence in more than 150 countries.
Ever since the company started in the mid-50s by Jacques Courtin-Clarins, it has grown to be one of the leaders in natural care cosmetics.
Although the entire industry's global market size is sitting at $532B, Clarins, like many other retail stores, is suffering from declining revenues. According to a survey done on Piper Jaffray by Businesswire, females spending on cosmetics is down 21% in 2019 from previous years.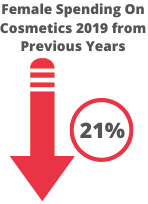 While 91% of teens prefer shopping in-store rather than online based on the same survey, the revenue growth in Beauty and Personal Health is expected to fall in the upcoming years.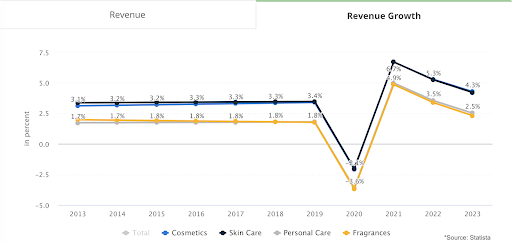 One of the main drivers for this decline is that social media is becoming more influential in steering buyers to make a purchase decision.
With the fierce competition and the many varieties in different brands and stores, grabbing buyers' attention is becoming a contest among promoters. Everyone is competing on who will hold the next visitor enough to make a purchase.
Violet Lee, senior marketing director at Clarins, was growing worried over the impact this would have on sales for different branches of Clarins across the country.
After consulting with her team, they've decided to rent a photo booth in one of the locations to attract passing buyers and allow them to take free photos.
While this strategy sparked some interest with potential buyers and made it possible for salespeople at Clarins to promote some of their cosmetic products, the price to rent one of these booths was becoming a rising cost.
There was also no way to collect any information about these prospects or retarget them with offers or promotions.
"We wanted to attract more millennials to our brand. Renting regular photo booths for our in-store events was quite expensive. We were paying anywhere from $1,000- $2,000 each time. What's worse is they don't have any email collecting or social sharing capabilities." Violet said.
With the rising cost of these booths and the limited functionality, Violet faced a real problem and needed to find a way to attract and connect with more buyers and increase sales in their stores.
The Solution
An Engaging Way To Connect With Shoppers & Offer Promotions
After weeks of research, Violet came across the BuzzyBooth Marketing Solution.
The setup is composed of a Photo Booth Kiosk and a backend software where the magic happens.
When potential buyers stand to take a photo or a video, the system records their data so Clarins can use it for upcoming promotions.
The way it works is once someone snaps an image using BuzzyBooth interactive photo kiosk, the software will ask them to enter their phone number and email address so the photo or video can be sent straight to them.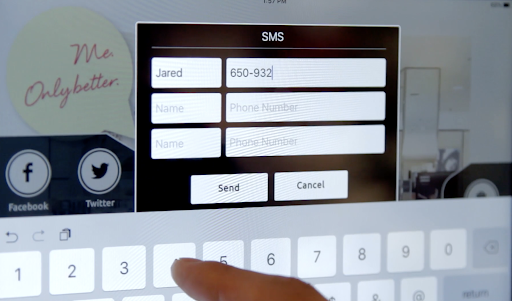 They would also have the option to share it directly on Facebook or Twitter.
All these photos have Clarins' name or their subsidiaries, which resulted in their brand, reaching a vast number of social media accounts every time a customer shares one of their photos.
Clarins can then use the contact information of their customers to retarget them.
With just a few clicks of a button on the BuzzyBooth Software dashboard, the marketing team can set up an SMS or an email campaign for any special offers or promotions that they would have.
The Booth started to gain lots of popularity with shoppers, and people started to line up and take photos.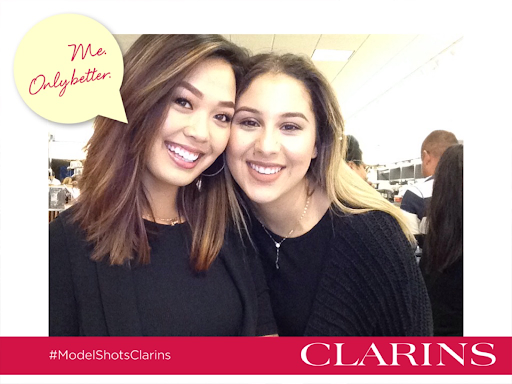 Meanwhile, salespeople had an easy way to start a conversation with their potential buyers and promote different products from their brand.
After the success in one location, Violet wanted to test it in a couple of events, including a launch of a new fragrance, and she was eager to see the results.
The Result
72K+ Contacts Collected and Over 18.3M Impressions
Clarins installed the first two photo kiosks for their #ModelShot event.
During the 2-day event, BuzzyBooth Photo Kiosk captured over 1,000 photos, and thanks to the solution, Clarins managed to collect over 600 new leads.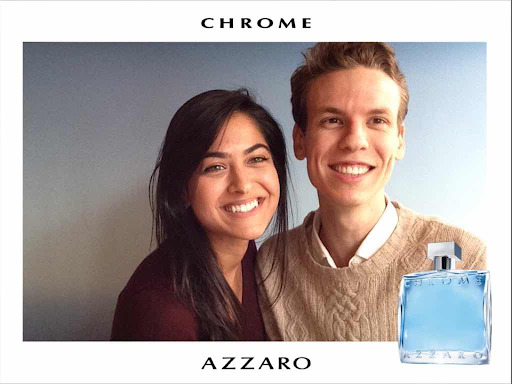 Soon after, other departments deployed a couple of units for the launch of Angel Muse Mugler perfume, and immediately the Photo Booth was a major hit.
They were able to accumulate thousands of new leads and create a buzz on social media with their brand.
In the upcoming months, Clarins installed more than 12 units in different locations across the country, each creating its own success story.
To date, thanks to BuzzyBooth, Clarins grew their contact list to more than 72,000 prospects, and their brand name is covering social media with over 18.3M impressions.

If you're looking to generate more leads for your retail business and attract more shoppers through a fully automated marketing solution, then BuzzyBooth might be a great addition to the success of your marketing strategy.
The Photo Kiosk takes less than 15 minutes to install, and the user-friendly software requires very minimal management.
Our team will guide you throughout the entire process and help you get set up.
Sign Up Now for A Free Consultation
"Thanks to BuzzyBooth, we were able to attract shoppers to take free photos, which gave our salespeople the chance to promote and sell our products."

Kajal Josh Karen Matthews – Marketing Executive, Clarins.