"We had less than 500 email contacts before using BuzzyBooth, and after using the solution we got almost 15K contacts."

Kerry Levett – Hurricane General Manager
The Challenge
The Biggest Frustration with Loyalty Programs
Hurricane Bar & Grill have been serving customers on Huntington beach California since 1992.
But with the rise of new trendy spots along the beach, the competition was getting tough.
General manager, Kerry Lovett was faced with a challenge when the number of daily walk-ins started to slow down.
It was not looking good…
After consulting with the team, Kerry decided to try out loyalty programs in an attempt to motivate new customers to return and existing ones to keep coming back.
Unfortunately, the first problem that started to show up was that most loyalty plans are cut and dry.
The solution does not work across the board for all restaurants.
First off, there's no immediate incentive for customers.
Reward programs also expire before the customer even has a chance to use them.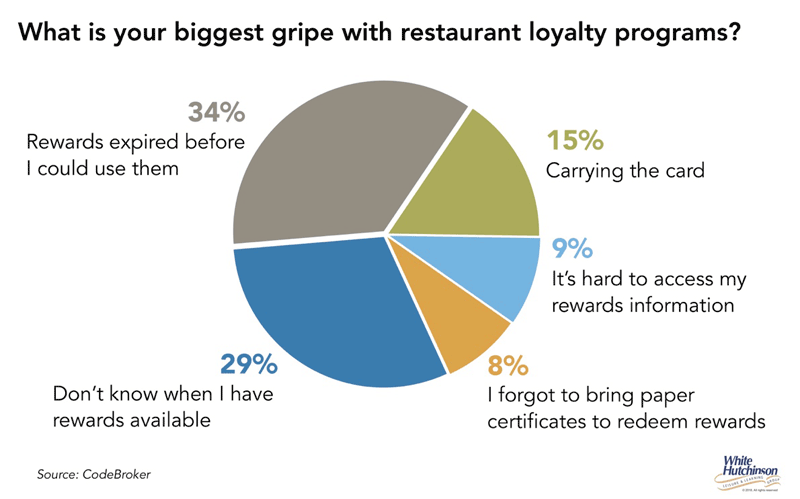 Unless the guest is a regular, it's not enticing enough for someone to come for another visit just for a discount or a free drink.
Loyalty programs are also too complicated.
In the U.S., there are 3.3 billion loyalty memberships.
Between asking customers to enter their information, keeping track of who used their loyalty and still offering promotions and discounts, made the whole ordeal hard to manage.According to Prweb, 71% of Americans are less likely to join a reward program that collects personal data like address or phone number.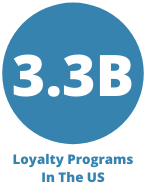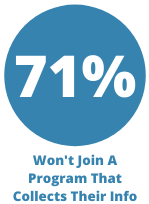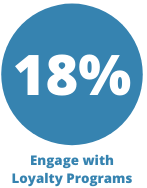 That can all be worth it if it actually brings significant revenues.
But the problem is, most customers never end up using any of their loyalty deals.
According to a study by codebroker, only 18% of customers actively engage with all the loyalty programs to which they are members.
What's worse is managing the program requires additional staff which meant an increase in budget.
Not to mention the cost of a loyalty software and a carding system.
All of this piled up the expenses of managing a loyalty program from a few hundred to a few thousand dollars a month.
People were coming to Hurricane to chill and have a few drinks with friends and setting up a complex loyalty program made the experience daunting.
"Existing solutions like loyalty programs weren't effective since people don't want to sign up and give out their information, and it takes out our staff time as well."
Kerry was getting frustrated and needed to find a solution that was both simple and effective.
Unlike traditional loyalty programs, the solution needed to offer immediate rewards of some sort.
It was also important that the solution doesn't require complex management.
The Solution
Simple and Easy Way to Collect Thousands of Contacts
When "Hurricane" first heard about Buzzybooth and how it can collect customer information in a unique and innovative way, they were intrigued about the potential that this solution could do for their restaurant.
They still had a few questions like:
How can we make sure customers can sign up in a simple way and stay engaged?
How complex is it to launch an SMS or an email promotional campaign?
How can we know the software is not going to require additional manpower to manage?
"We wanted an easy way to collect customer contacts." Kerry said.
After a short consultation with BuzzyBooth, the team explained how the solution could be the answer to their prayers.
Unlike traditional marketing tools, BuzzyBotth with its unique Photobooth Kiosk allows customers to interactively take photos while collecting their information which makes it easy to re-engage with them, gain positive reviews and increase referrals.
Every time someone takes a photo or a video, the platform logs their data including phone number and email address.
It then allows the customer to share their photos or videos on their social media accounts.
These photos and videos were all branded to "Hurricane" which meant a free promotion through word of mouth.
It then asks them to leave a review.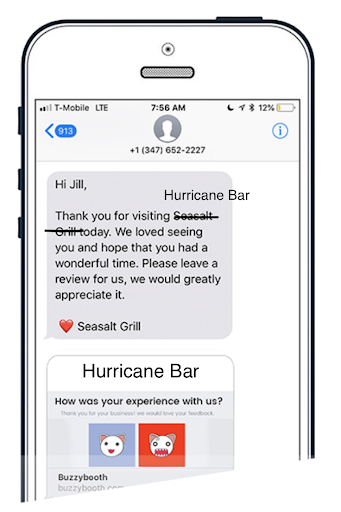 Hurricane couldn't wait to try out the new solution.
Setting up the BuzzyBooth Kiosk was simple and the software was up and running in a few minutes.
Customers started to come in and line up at the kiosk to take photos and videos.
As soon as they entered their email and phone number on the kiosk, they were sent the photo they took.

Another major plus was the automated review request feature.
Meanwhile, Hurricane was collecting all those contacts.
Their customers enjoyed the experience, especially that it was both fun and engaging with all the filters that BuzzyBooth Kiosk came with.
Hurricane's name started to show up on so many social media accounts.
And with almost no effort, all these customers were promoting Hurricane at no additional cost.
Referrals started to pour in and new customers were coming…
Positive reviews also started to show up.
In record time, Hurricane had a large number of 5-star reviews that started to appear on Google and TripAdvisor.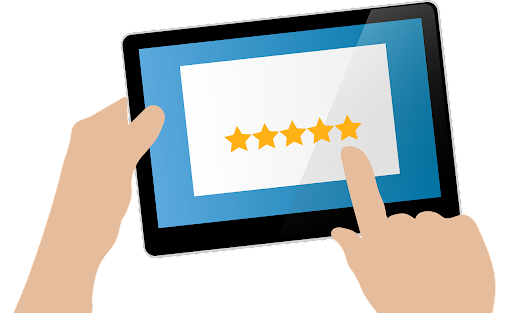 The solution was perfect!
After a couple of months, they wanted to test out a new campaign with the contacts they've collected.
The idea was simple..
A themed party at the bar to bump their contact list as well as increase the average spend per customer.
The Result
2,780 Contacts And $9,800 Revenue From One Single Campaign
The most important metric when it comes to any marketing campaign is the ROI.
In the case of Hurricane, they wanted to get their event booked with the smallest budget and they wanted to increase the average spending per guest.
All of that without the need to ask people to fill out lengthy forms.
After running the campaign for a couple of weeks and the big event, numbers started to shape up.
They've managed to collect 2,780 contacts and made a profit of $9,800 which netted $8,000 from that single campaign.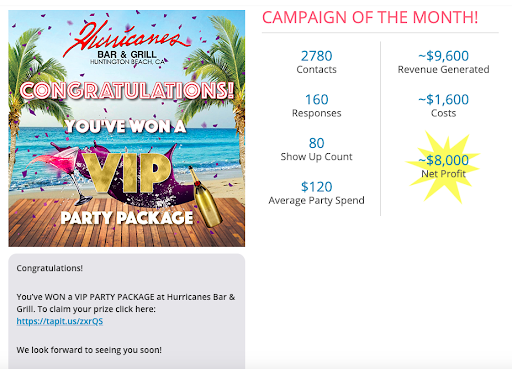 Not only was the process of collecting contacts seamless at Hurricane, but they've also seen real business results.
Since using BuzzyBooth, Hurricane has rapidly increased the number of booked parties, increased their customer base and seen a big increase in their revenues.
They have collected over 15,000 contacts to date and over 3M impressions all over social media.

If you want to increase your restaurant revenues and you're looking for a simple and effective marketing automation solution then Buzzybooth might be a good fit for your business.
Sign up Now for a Free Consultation
"We had 160 parties booked out of that blast so 3x what I thought would happen!"

Kerry Levett – Hurricane General Manager